Ultra Carpet Steam Cleaning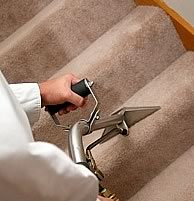 Experience the ultimate in ultra steam carpet cleaning process from All Clean Carpet, Inc. - satisfaction guaranteed!
"Ultra Carpet Steam Cleaning" process is a "best in class" service that provides the most complete and thorough method for getting your carpets and rugs clean and looking like new.
We start with a pre-inspection, then an application of a base treatment, followed by a pre-vacuum procedure to ensure all loose dust and dirt are thoroughly removed. We then utilize high performance equipment designed to penetrate deep into the fibers, thoroughly breaking up oil and dirt and extracting them away.
The next step of the Ultra Carpet Steam Cleaning process is to pre-condition the carpet or rug to ensure the fibers are relaxed and ready to accept a hot bath of steam. We then introduce a fiber rinse extraction process that thoroughly cleans, rinses and extracts the dirt and moisture from the textile and dispenses it into a housed container within the machine. The next step in the process is a meticulous hand grooming process that invigorates, lifts and ventilates the fibers giving them a uniform appearance. Lastly we strategically position multiple turbo fans that dry the moisture from beneath the surface of the carpet or rug leaving the fibers in superior condition.
Why treat your carpets to the Ultra Carpet Steam Cleaning process?
There are many benefits in having your carpet cleaned, benefits that vacuuming alone simply cannot provide. By having your carpeting deep cleaned using our innovative steam method, your carpet will look clean and beautiful, and smell fresher than it has in years. Not only that, deep cleaning actually extends the life of your carpets, and eliminates much of the dust and deeply embedded particles that can irritate members of your family with allergies or asthma, making their symptoms worse.
At All Clean Carpet, Inc. we know carpet - and we also know that if properly cared for, it can be one of the most durable, lasting investments in your home. In fact, when cared for the way it should be, quality carpeting can be expected to last for 20 years or longer! Even carpets that are designed to repel and camouflage stains trap dust, dirt, bacteria and other debris; the best brands still deteriorate and become matted with time. We are confident you will be happy with the incredible results of our Ultra Carpet Steam Cleaning process!
OPTIONAL - Fiber-Shield® fabric protectant can be applied at this stage to thoroughly seal and protect the fabric from future spills and stains. All Clean Carpet, Inc. utilizes Fiber-Shield® protectant for maximum effectiveness and performance. Learn more about Fiber-Shield®
If you would like to experience the ultimate in carpet and rug cleaning, give the Ultra Carpet Steam Cleaning/Detailing a try. It is that good. You will be glad you did!