Carpet Steam Cleaning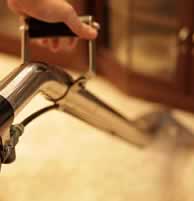 All Clean Carpet Professional Carpet Steam Cleaning (in NY, Connecticut, Westchester, Manhattan and Long Island)
provides the optimal results for penetrating deep into carpet fibers to break up oil and dirt on the surface and within the base.
*No other method can penetrate as deeply or remove stains and soil as thoroughly as steam.
Vacuuming your carpets is effective for removing surface dirt and dust, but cleaning deep down in the fibers to remove even the most difficult to remove stains requires carpet steam cleaning. Area rugs and carpets benefit greatly from the powerful deep-cleaning properties of steam, capable of removing dirt and filth completely down to the carpet pad.

Whether you have solidified stains such as candle wax, glue, sticky sauces, or other hard-to-remove stains such as red wine or pet urine, you can rely on our professionals to leave your carpet looking clean and beautiful, with a fresh clean smell that's healthier for your family.
All Clean Carpet has been providing high end clients with professional carpet steam cleaning services for over 30 years. Carpet steam cleaning is our specialty; we provide unparalleled results for the most demanding clients.
Professional, Fast, Clean. Don't just take our word for it. Read what clients

are saying, and check out our rating from The Franklin Report (see below).
ARE YOU READY to give your carpet steam cleaning? Call All Clean Carpet today at (516)-621-0524 or fill out our contact form. We will be happy to answer any questions that you might have about our carpet steam cleaning process.
* Institute of Inspection Cleaning and Restoration (IICRC) Recommended